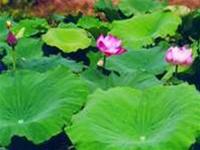 So far, people have only paid attention to using lotus seeds (continuous humiliation) to cook tea, lotus heart (inter-mind) as a sedative, lotus tassel (continuous tu) used to marinate tea, and lotus root (interpretation) as a remedy. food.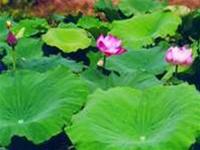 As for the lotus leaf, it is usually only used to wrap food, few people think that the lotus leaf has many valuable effects to cure diseases.
Chemically, lotus leaf contains 0.2 – 0.3% tannin, 0.77 – 0.84% ​​alkaloids, including nuciferin (mainly), nor – nuciferin, roemerin, pro – nuciferin, vitamin C, citric, tartric, succinic acid. In addition, there are quercetin, isoquercitrin, nelumboside, leucocyanidin, leuco – delphinidin. The percentage of active ingredients in lotus leaves is higher than that of young and old leaves.
In terms of pharmacology, lotus leaves have been researched and proven to have sedative effects, anti-smooth muscle spasms, anti-anaphylaxis, and inhibition of cardiac arrhythmias. The sedative effect of lotus leaf is stronger than that of lotus mind. Nuciferin extracted from lotus leaves has the effect of prolonging sleep. Senin medicine containing lotus leaf alkaloids was applied on 36 patients with ventricular systolic dysfunction with no physical damage to the heart, achieving good results with the rate of 75%, the drug did not cause side effects. The drug leonuxin prepared from lotus leaves and samples was also treated for patients with ventricular extrasystoles with good results 64%, average 21%, no results 15%.
Lotus leaves are used in traditional medicine and folk experience with the medicinal name of Lien Diep or Ha Diep, collected all year round, usually using young leaves (or unopened rolled leaves) and Banh Chung leaves, with the stalk removed. . Use fresh or sun-dried, sometimes fragrant. Medicinal herbs are large, dry, green leaves, no decay, no punctures, bitter taste, slightly acrid, light aroma, cool, non-toxic, on the 3 meridians of the can, spleen, and kidney. Used to clear heat, stop bleeding, disperse stasis, sedation, low benefit.
Function:

Cure thirst : Young lotus leaves (the kind of leaves that are still unopened, the better) are washed, chopped, pressed to drink water several times a day. Or chopped, mixed with vegetables, eaten raw every day. People with diarrhea have just been cured, the body is lacking a very good broth.
 Cure bad blood that does not come out after giving birth : Fragrant star lotus leaves 20-30g finely dispersed, drink with water or copper (children's urine) or decoction with 200ml of water to 50ml, drink once a day.
 Cure insomnia: 30g lotus leaf, washed, finely chopped, dried, sharp or drunk. Tablets including soft lotus leaf 0.03g, lotus leaf fine powder 0.09g, excipients just enough for one tablet can be used. Take 3-6 tablets a day 3 hours before going to bed. Or lotus leaf syrup including 4g lotus leaf extract, 45o alcohol 20ml, single syrup just enough for 1,000ml. Adults drink 15ml, children 5ml depending on age.
 Treatment of dengue fever:  40g lotus leaf, 40g lotus root or grass, 30g pennywort, 20g plantain seeds, excellent drink a day. If bleeding heavily, can increase the dose of leaves and lotus root to 50-60g.
Cure brain bleeding and associated complications in hypertensive patients : Lotus leaf 15.5g, licorice 15.5g, bean weight 12.5g, biogeopathy, vascular mons, parasitic tang, white dahlia 10g each . Sac drink on a ladder.
 Hemorrhage, nosebleeds, bloody diarrhea : 40g lotus leaf to live, 12g centella asiatica, finely chopped, with 400ml of water to 100ml, drink twice a day.
 Cure coughing up blood, vomiting blood : Lotus leaf, lotus root, 30g each; cypress, wormwood 20g each. All finely chopped, dried, excellent drink during the day.
 Treatment of insomnia : Using lotus-capsule capsules consisting of dried lotus leaf extract 0.05g equivalent to 1g dried lotus leaf, 0.06g dried lotus leaf extract, equal to 1g dried leaf extract, l – tetrahydropalmatin (active ingredient extracted from lime tuber) ) 0.03g, excipients just enough for 1 tablet. Take 2-4 tablets a day before going to bed. A course of treatment from 10-15 days.
 Neurology Department – Hanoi Huu Nghi Hospital has given 100 patients a good sedative effect, causing fast sleep, prolonged sleep, and calmness. When I woke up, I did not feel tired compared to taking meprobamate. Lotus – Vong pellets have been widely produced for domestic use and export.
 Passerynum preparations including lotus leaf, passion fruit, nemquat, rosemary seed, mulberry leaf, mulberry leaf, acacia seed and ginseng have shown good clinical results, making patients sleep easily and soundly. does not cause drowsiness and does not alter blood pressure.
 In addition, lotus leaves and flowers 10g each; 4g yellow chrysanthemum flower, excellent drink also cures high blood pressure, eye pain.
 For external use, the lotus leaf stalk is cooked with condensed water to wash, then wash the lotus leaf, pound it with glutinous rice, and apply it to dissolve pimples.
Using lotus leaves to drink water instead of tea has a very good effect on blood fat and obesity.

 According to foreign documents, drinking lotus leaf is popularly used as a kind of tea in hot summer days to combat heat, cool down, cool down, and relieve thirst. American scientists have studied that in lotus leaves there are active ingredients to soothe sex, cure sperm, and dream sperm.

friday night funkin download tv express apk kinemaster download kinemaster kinemaster for pc   Ativador Windows 11
(Visited 398 times, 1 visits today)